David DeLauter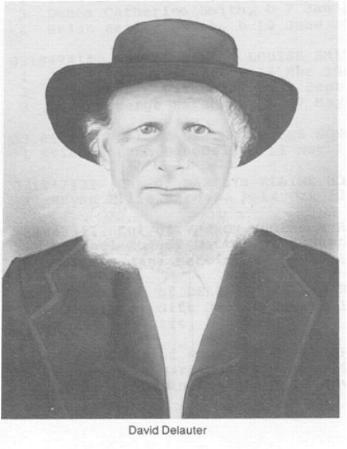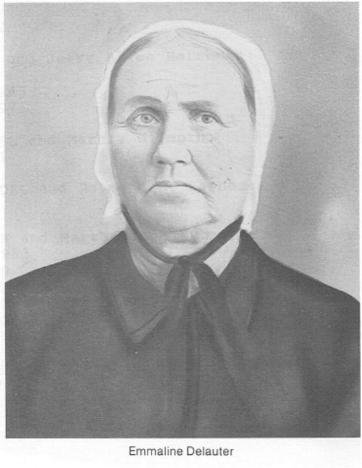 David DeLauter lived his entire life on Highland in the Upper Middletown Valley of MD. Being born just a few years after the War of 1812 and living through the War between the States, his was not an easy life.

I have been told that Emmaline in her maturity was a large woman. There is a story that during the War soldiers, blue or grey, came to the DeLauter farm asking for horses. Emmaline stood in front of the barn door and said, "You'll have to shoot me first." The soldiers marched on.

How Emmaline's heart grieved, when a total of four sons left home for the West. It was said her cries could be heard as far as the valley. She must have been gratified when late in her life she made a trip to Indiana to see her remaining children. Aaron, my grandfather, was deceased.

My earliest recollections of Maryland relatives were in connection with the trips for the Annual Conference of the Church of the Brethren. I barely remember arriving one night at Aunt Charlotte Biser's. Her kerosene lamp was kind to my tired, sleepy eyes.

Many happy hours were spent at Uncle Charlie's home. His family of boys and girls was an attraction to both my brother and me. We played for hours in the creek, in the fruit trees, running up and down the mountain. Tromping over the same hills as my great great grandparents, held only fun and games for me. I did not appreciate the fact that those hills were originally a land patent given an immigrant. The food produced to fill all our hungry appetites was pure southern hospitality culminating in pie for breakfast!


(Item about Emmaline; poem by youngest son Charles):
Feb 3rd, at her home, near Ellerton from the effects of grip, Mrs. Emmaline DeLauter, widow of David DeLauter, aged 69 yrs 11 months and 22 days. Interment Feb 5th at Grossnickle Meeting House.

I've no mother now -- I'm weeping,
She has left me here alone;
She beneath the sod is sleeping --
Now there is no joy at home.

Tears of sorrow long have started,
Her bright smiles no more I'll see,
And the loved ones too have parted --
Where, Oh where is joy for me.

Dearest mother, I am sighing
On thy tomb I drop a tear
For the home for me is parted
Now I feel so lonely here.

-Charles DeLauter
---
David DeLauter Born 14 Sept 1819 d 8 Oct 1890 m Frdk Co 23 Aug 1848 Emmaline Lowry (b 11 Feb 1824 d 13 Feb 1894)
Children of David DeLauter and Emmaline Lowry:

Amanda Catherine Delauter born 27 July 1845 d 25 Jan 1878 32 yr 6 mo m Wm. Sponseller

Mahlon Henry Delauter born 1 Sept 1847 d 19 Apr 1929 m 10 Nov 1867 Elmira Gaver (d/o Phillip Gaver b 26 Nov 1848 d 20 Feb 1917)

David Hamilton Delauter born 1 Aug 1849 d 18 Oct 1909 m by The Rev G W Stlaton Ellerton MD 26 Dec 1871 Louisa Catharine Hoover (b 20 Feb 1851 d 25 May 1936)

Sarah E. Delauter born 19 Dec 1850 d Dec 1930 79 yr m Geo. Hiram Delauter (s/o Israel J27)

George Washington Delauter born 29 June 1852 d 6 July 1863 11 yr 7 days

Susannah "Mary Susan" Delauter born 19 Feb 1853 d 27 May 1935 m 11 April 1873 Louis Parker Green (s/o Benj Green b 13 Sept 1853 d 13 Oct 1936)

***John A. Delauter born 6 Oct 1855 d 1 April 1925 m 27 Dec 1876 Martha Heckathorn (b 9 Aug 1855 d 1940)

Julia Rebecca Delauter mid-wife, born 8 March 1857 d 3 Oct 1924 m Daniel K. Hoover (s/o Jacob & Mary Warner Hoover b 9 July 1857 d 13 Feb 1928)

***Phillip Franklin Delauter born 20 Aug 1858 d 1928 bur Pleasant Hill Cem N Manchester IN m 10 Nov 1883 Sarah Jane Bussard (d/o Jacob & Elizabeth Arter Bussard (Jacob s/o Samuel & Mary Delauter Bussard) b 1844 d June 1924)

Charlotte E. Delauter born 18 Feb 1860 d Jan 1939 m 17 Feb 1891 Jacob Biser (b 25 May 1850 d 20 July 1930)

***Lewis Talman Delauter born 11 Sept 1861 d 18 June 1888 m 25 Dec 1884 Mary Ellan Daub (d/o Joseph Byers & Eliza Rager Daub b July 1862 d Feb 1931)

***Aaron DeLauter born 20 Nov 1863 d 6 Nov 1896 m 29 Aug 1885 Ella Eudora Snell (d/o Jacob & Clara Bowman Snell b 20 Dec 1860 d 20 Aug 1951)

Charles DeLauter born 23 March 1867 d 14 Jan 1958 m 12 Nov 1897 Cora Hoover (d/o Gideon & Frances Main Hoover b 22 July 1878 d 10 Aug 1951)

***Indicates those who went to Indiana.