Click Here for the Delawder and Aldridge Family Genealogical Connection.
Archibald Delawder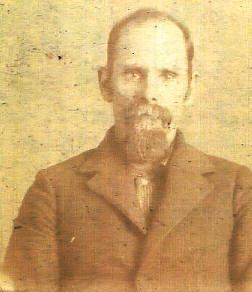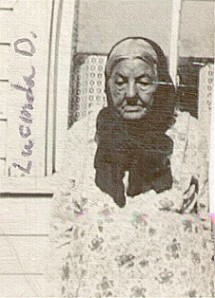 (Lucinda)

Archibald Delawder(Archie) Born:Feb 1851, Died Feb 29, 1928 buried Delawder Cem Aarons Creek, Lawrence Co., OH, Married on March 15, 1874 to Lucinda (Tiny) Aldridge (born April 24, 1854, daughter of Mount Calvery & Minerva (Gillan) Aldridge


The following was received from Mrs. Sandra Holderby:
Archibald Delawder b. Feb. l851 Lawrence Co. to James Madison and Barbara Delawder. Married Susan Lucina Aldridge March 15, l874 in Law. Co. d. Feb. 29, l928 at his home in Aid Twp. Lucina b. May 24, l854 in Law. Co. to Mount Calvary and Manerva Gillen Aldridge. She d. April 2, l950, Law. Co. both are buried in the Delawder cem. Aid twp.
Archibald Delawder and Lucinda (Tiny) Aldridge Children:


---


(In the first picture above, Joseph is about 18 years old. The second picture above was possibly taken before Joseph died; he was 28 years old at the time of his death.)
Joseph Delawder Born Dec 23, 1874, died 1901 buried Delawder Cem, Aarons Creek, Lawrence Co, OH


---


Lewis(Lou) Delawder Born Feb 16, 1877, died June 24, 1972 buried Gallia Bapt Cem Gallia, OH, Married:Sylvia Evans


Children:
Joe Delawder
Dorthy Delawder(Adopted) Parents were Sylvia's brother and wife both Died of influenza
Possibly children : Darlene born 1902 and Albert born 1904




The following was received from Mrs. Sandra Holderby:
Lewis b. Feb. 16, l877 Law. Co. married Sylvia Evans May l6, l928; d. June 26, l972 Oak Hill, Ohio; Syvia b. Dec. 2, l886; d. Jun l979 Gallia or Jackson county (do you know Sylvia's parents; where she died and actual date? Was Lewis married before or Sylvia? I have children listed, but not sure, because of the dates they are Lewis')
Children:
Darlene b. April 14, l90l? married Robert Callicoat l963; d. June 8, l979 Gallia
Dorothy was adopted
Albert C. b. l906 maried a Sosia; d. l971 Dayton
Joseph b. l903 d. before l979

---

Janie (or Nancy J.?) Delawder Born March 1, 1879, died 1895 at 16 years old buried Old Delawder Homestead on Aarons Creek in Lawrence Co., OH (carving on tree at top of hill)


---

Myrtle Delawder Born Aug 8, 1881; died June 24, 1962 married (1) Geo Sanders, (2) Dennis Morris, (3) Simon Vickers


Children:
Joe died 1968 buried Delawder Cem.

The following was received from Mrs. Sandra Holderby:
Myrtie "Mertie" b. Aug. 8, l88l Law. Co. married #2 Sol Vickers #1 Dennis Morris, divorced in l923 d. June 24, l962, buried in the Delawder cem. (some records have that she married a third time but have not found that to be true. This is just a guess, but many including myself put Joe with Lewis....I remember Joe very well,he had what we now know as kyphoscoliosis (hunchback)..I'm wondering if Lewis may have fathered the child? just a hunch)
Child: Joe b. May 3, l902 (illeg.) married Dorothy Baker d. buried Delawder cem.




---

(Margaret on left in dotted blouse, Samuel Blagg and Minta Vermillion who was the first wife of Samuel; she died at age 33 of breast carcinoma.)
Margaret Delawder Born March 8, 1884; died Oct 5, 1961, Married:Samuel Blagg (both buried Lawrence Cem Pedro OH



Children:
Pearl Blagg, buried Heckly Cem L Co., OH
Lora Blagg
Nellie Blagg
Eugene Blagg, died 5 Feb 1969 buried Woodland Cem, Ironton, OH
Millard Blagg, res Gov't Hos Chillicothe, OH
Callie Blagg
Ray Blagg
Monroe Blagg


---


Mark Delawder(Pete) Born:4/27/1887; Died 8/2/1959 Married on 6/27/1920 to Edna Brown (born May 21, 1893, died at her home on 12/24/1927 at 11:30 AM due to pneumonia, buried 12/25/1927 the daughter of Robert C. Brown and Ellen Tipton-Brown)
Mark Delawder (Pete) Married: Georgia Thompson after first wife Died.


Children:
Marting Delawder Born 4/27/1921 Married Rosann Blevens (Mother was Edna Brown)
Gilbert (Gene or Gib) Delawder Born 1/22/1923 Married Jan 28, 1945 to Agnes Errick (Mother was Edna Brown)
Georgianna Delawder Born 11/25/1930
Milton Delawder Born 7/10/1932
Dale Delawder Born 1/22/1934
Charles Delawder Born 4/16/1935
Vonna Delawder Born 9/8/1937 Married 6/14/1985


---


Noah Delawder Born: Jan 21, 1889; Died Sept 4, 1965 Married:Eva Harper Born:Apr.1901 daughter of George & Mary (Jenkins) Harper


Children:
Earl Delawder, married (2) Neva Massie
Lewis E.(Ed) Delawder
Ray E. Delawder
Donald R. Delawder, born 11 October 1931, married Gloria Rowe
Audrey (Malone) Delawder
Chloe (Malone) Delawder
Bess (Russell) Delawder
Glenna (Meyers) Delawder


The following information was received from Mrs. Sandra Holderby:
Noah married Eva Harper in Lawrence Co.
Children:
Chloe b. 28 June l925 Aid twp. married Harold Malone. Harold b. 21 July l921 s/o Delbert Malone. Chloe d. 25 Sept. l970 buried Slab Fork cem.
Children:
Marjorie b. 15 Dec. l948 m. Bob Jenkins
Fayetta b. l May l950 m. Jerry Midkiff
James Harold b. 13 May l946 m Audry Hicks
Donald Ralph. Delawder b. 11 Oct. l931 Aid twp. married Gloria Rowe


Children:
Donald Howard b. 9 July l952
Patricia Ann b. 23 Feb. l956
Linda Gay b. 29 June l957 (these dates need to be confirmed with Don Delawder)


Earl K. b. 3 Dec. l9l8 Aid twp. married #l Neva Massie, they parted; #2 Mary Webb. Earl d. 4 Oct. l994 and Mary d. l0 May l993. Buried Palestine cem.
Children with Mary:


Roger Earl b. l8 Jan l957
Kevin Dale b. l July l966
Mark Anthony b. 21 Sept. l969
Step-children of Earl's
William Strunk
Steve Strunk
Rick Strunk
Rosetta Strunk m. George Jenkins
Brenda Kay m Homer Biars
Audrey b. 27 March l920 Aid twp. married Orlyn Malone 6 Jan. l936 Law. Co. Orlyn b. 24 Jan. l9l7 s/o Floyd and Catherine Aultman Malone. He d. 29 June l973 Audrey d. 25 Dec. l974. Buried Byron cem., Fairborn, Ohio Children:
Arnold Kenneth b. 7 May l937 m. Ester Bowling
David Lee b. 6 Aug. l936 m. Gail Campbell William b. l8 Aug. l963 m.#1 Sharon; #2 Barbara
Glenna Ruth married Kenneth Myers (Glenna Ruth and Ruth Irene may be the same person)

---

Gertrude Delawder Born: May 1892, Married Joseph Lambert


Children:
Othel Lambert, died at 9 years old buried Delawder Cem
Dassie Lambert
Archie Lambert, buried Fairborn, OH
Thelma Lambert


The following information was received from Mrs. Sandra Holderby:
Gertrude "Gertie" b. May l892 Aid married #1 Joseph Lambert; #2 Glenn Shepard. d. Dec. 15, l979 Fairborn, Ohio.
Her children were with Joseph:
Otheal died as an infant
Daisy b. Sept. 29, l9l5 married Holly Kaiser
Archie b. Sept. 4, l9l9 married Cora Heider d. may 31, l966 Fairborn
Thelma Gretchen b. Dec. l9, l922 married #1 John E. Carsen; #2 Alfred DeSalvo d. April 24, l996 in New York

---


Elmer (Dick) Delawder Born: July 19, 1895; Died 3 Oct 1968, Married: Edna ?


Children:
Lucinda Delawder, born Feb 1, 1926 died Feb 2, 1926 (2 days old) bur Delawder Cem
Lora (Griffith) Delawder, born Jan 10, 1927
Virgil Delawder, born Feb 22, 1929
George Delawder, born Oct. 6, 1933
Robert Delawder, born March 8, 1945


The following was received from Mrs. Sandra Holderby
James Elmer b. July l9, l895 Aid twp., married Edna Carpenter July l,l925 d. Oct. 28, l963. Edna b. March 23, l906 Law. Co. to George and Julia Loper Carpenter. d. May 25, l988. both buried at Woodland

Children:
Lucina b. Feb. l, l926 Eliz twp. d. feb. 3, l926
Virgil "Buddy" b. Feb. 22, l929 Eliz.
Lora Griffith b. Jan l0, l927 Eliz. married Raymond Brislin d. Sept. l0, l998
George E. b. Oct. 6, l933
Robert Vincent b. March 8, l945

(as you see I don't have much on the children, so would like to know who they married and if they're still living. I remember going to see Grandma Delawder when she stayed with "Dick" in Ironton.....they removed all those houses where he lived when they put Rt. 52 through there)
---
Garnet Delawder (female) Born:Apr. 1897 Ohio married Elbert Rogers lived in Dayton, OH

The following was information was received from Mrs. Sandra Holderby:
Garnet Delawder married #1 Elbert Ford Rodger b.Jan. 15, l893 Lockwood, W.Va. s/oNorman and Martha Davenport Rodger on 14 Aug. l9l6 in Lawrence Co., Ohio
#2 Edward Russell b. l900 s/o Ed and Rosa Bowers Russell on 13 Jan l922 inLawrence Co., Ohio. Do not yet have information on the Irvin and Smith she married, where she died and if she had children. Daisy Kaiser,Gertie's granddaughter said she was at Gertie's funeral in l979 and at that time livedin the Dayton area. The family story is she ran away from home because of her father's harsh treatment.
---
Back to James Madison Delawder